This was originally published on worlddj.com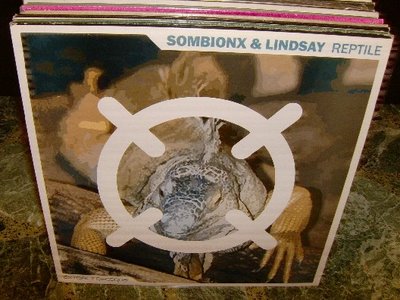 Putting the flair and fun back where it belongs at the heart of the dance music experience, Adam "Sombionx" Nelson & Lindsay Frkovich are capable of causing a commotion anywhere from their studio at home in Chicago, to nightclubs in Istanbul.
» Where were you both based before Chicago and what music were you into?
Sombionx: I had a touring rock band that moved to Chi from N. Carolina but I was raised in the mountains of Vermont. I was always into electronic music as well as rock from the early '80s on. I moved to Chicago in 1990.
Lindsay: Well I'm a bit younger, but I moved to Chicago in 1997 to attend Columbia College. I've always been into Jazz, classic Rock, Disco and '60s Motown girl groups.
» How did you two meet each other?
Lindsay and I met on the Damen "EL" platform in Chicago on a cold winter night six years ago. It is a long made-for-TV-movie kind of moment that we are considering for one of our next videos… It's hard to believe but true drama that defines us to this day.
» Adam, you set Q Studios up in an abandoned disco club in 1990. What was your original vision for it?
Cheap rent and 3000 sq ft of space to build any way we want. Having your own nightclub/studio is most musicians' dream I think. It's great to bring people back afterhours and be able to crank it loud as the club without making anyone angry. The space surely added to our notoriety when we first got started.
» In 2000 Johnny Fiasco handed you your first remix project ("Try Her For Love" by Colette on Moody), but it was a Drum and Bass track and you're mostly known for house. How did that project come about?
Johnny rented a studio from me for five years so we were close but musically very different. He would be blasting House from his room and on the other side of the dance floor I was blasting whatever I was working on. I was just into Rock and Electronica during most of that time, and was on a D&B trip for about a year.
Johnny gave me Colette's vocals on a Friday and said, "Why don't you mess around with these?" and went home for the weekend. When he came in on Monday I played him what I made – it was live Drum and Bass and he liked it so we gave it to Colette when she came to pick up Johnny's mix.
Then Bad Boy Bill called me and said he wanted it for the record even though the other mixes were House. The track was a standout on an otherwise "House" record and label. It got airplay in Europe and was licensed to a lot of Mix CDs. It was the first and only D&B track I did for a label. It's cool because it got my foot in the door as far as producing for labels.
My life changed a lot that year. We started throwing alot of big parties in the studio around that time. The parties began with D&B DJs for the 10-1 slots then we would have House DJs from 1 till the sun came up… The people including me responded alot more to the House and started asking for it earlier and earlier, pissing off a lot of my D&B buddies.
I actually lost some good friends over this because pretty soon we had so many great DJs lined up – like Fiasco, Collete, Dayhota, Heather, Mazi – that my D&B friends got squeezed out of the picture. I had found a new lover… House!
» Which styles of EDM do you produce nowadays?
We produce sub-genres of House for most of our own stuff, though we produce tracks for clients of the studio that cover a wide range including Rock, Hip Hop, D&B, Latin, Jazz, and a lot of theatre soundtracks.
» What do you think about all the categorical labels people use when talking about house?
I think it helps people describe what style they play. I will buy records in almost any sub-genre if they can be worked into my set. I just buy records I like and make them fit.
It's not good to have only one genre in your bag. Each style has an ideal time and place: deep stuff early at night or early in the morning; peak hour is for the live set or the jams; and harder driving tracks and techy dark stuff works well after 4 usually.
» How would you describe the music coming out on Q Studios' own label?
Our EPs offer four distinct moods that collectively convey a story. Each EP presents different sub-genres of House and can be used at varied times in the night. Different DJs identify with different tracks and that helps sell them to a wider group.
» I still love your breakthrough collaboration, "Reptile". How do you feel about it now?
It's always nice to know people are playing your stuff. Four years later people still mention it. For me it's like looking at a high school yearbook photo.
» What did each of you contribute to your 2004 album, Destiny?
Lindsay wrote the lyrics (save a line or two) and I produced the music. Since we live at Q Studios we spend a lot of time together mixing and working on tracks.
» What does a Sombionx & Lindsay Live performance involve?
We perform as a DJ and Vocalist for most of our gigs but when budget or proximity allow, we can bring our live band. I play an electronic drum kit and trigger loops and samples; Lindsay sings of course; and we have live bass and synth guitar.
Our live set is usually followed by a 1-5 hour DJ set. I play House, Tech House, Deep House, and a sprinkle of Electro and acid stuff.
» What international performances have been most memorable?
Almaty Kazakhstan was interesting as we were the first Americans to play there and unfortunately our military was bombing their neighbors in Afghanistan at the time. You feel like apologizing to everyone… The party was off the hook nonetheless and we made a lot of friends.
It would be hard to forget the parties we played in Portugal. Those people never stop until the weekend is completely drained. They brought us to Istanbul twice now as well.
» Finally, how is the vibe in Chicago clubs right now? Is there much going on?
The scene has really bounced back recently. We played with Paul Johnson a short time ago at Zentra and it was more packed than I have seen it in quite awhile – some of our friends got there a little late and never made it inside as the line wasn't moving. I would say clubs in general have returned to level they were at a couple years ago.