This was originally published on worlddj.com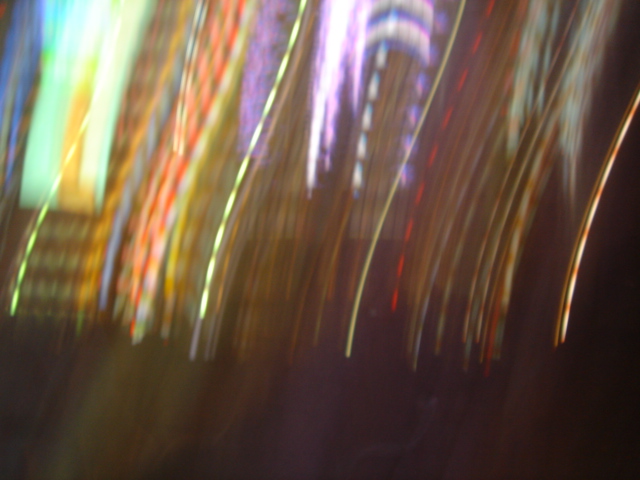 Despite being the fourth largest city in the US after New York, Los Angeles and Chicago, comparatively little has been said about Houston in terms of electronic music. I asked Nathan Stewart and Mario L to give me the lowdown.
» When did electronic dance music kick off in Houston?
Nathan: I know Chris Anderson and the Matrix Crew were responsible for a lot of the first warehouse parties and raves in the early '90s but I don't know much about what happened before then.
Mario: I think Houston had a rave explosion that peaked well after it did in other big cities like LA, NY, SF, Philly etc, but I learned from my school health textbooks that ecstasy was made illegal in the US because of its rampant use in the clubs of Houston in the early '80s. Whether this is true or not, ecstasy was everywhere: clubs, bars, schools – you name it. LSD was also really big.
Since I was underage I went to teen clubs that were basically mirror images of the adult clubs downtown. They had the same music, fashion, drugs and everything. You could never have teen clubs like we had in those days because they'd be considered drug havens. There happened to be three of these teen clubs in my area: Cars East, Cars West, and Intensity. None of them played Top 40 music.
» So what music was being played?
Mario: While other cities had a chance to cultivate a proper house scene that was an alternative to hardcore rave/techno, most Houston clubs played a mix of hip hop, new wave/synth pop, industrial and techno house. It was all very progressive and new.
When I turned 18 I started going to adult clubs downtown, which still mostly played industrial/new wave, although some clubs had mixed in some house and hip house. Classic tunes like "Planet E" by KC Flight, Inner City's "Good Life", and Lil Louis' "French Kiss" were played quite a bit in clubs along side industrial tunes from Front 242, Nitzer Ebb, and Ministry.
It was this bizarre time of club music where things were heading towards 4/4 beats but it was not considered house. Also, it was almost impossible to find the DJ booth in these early clubs. Most booths were well out of site, away from the dance floor and usually on a riser or accessible by a ladder. So I would imagine that requests were rare, and that the DJ had free reign to play what he thought was good.
» Was there much support for electronic dance music in the beginning?
Mario: Interestingly enough back then, Top 40 radio stations would broadcast live from nightclubs from 10pm until around 5 or 6am on weekends. They would start out broadcasting from a more mainstream club, then they would broadcast from an afterhours club.
This is where I first heard proper acid house. I used to listen to, and record those broadcasts every week. I had never heard music like that before and I loved it. But then the city made all clubs that sold alcohol close at 2am and that put a huge dent in things.
» Is EDM generally very popular at the moment?
Mario: Right now it seems there are small pockets of crews trying to get things going. There are thriving scenes of drum and bass, experimental type stuff, and underground hip hop, but I would hardly call it popular. Crunk and screw music – two forms of mutated hip hop – are what's popular.
Houston is also a big live music town, which is why there is so little support for electronic music in general. Our college radio station, KTUH, plays quite a bit of electronica, noise core and very left field experimental music, but I don't think there is any show dedicated to one form of electronic music in normal listening hours.
And the stations don't play house at all, which is key for exposure and promotion and why I think house thrives more in other major metropolitan areas of the US. Dallas, San Antonio and Austin have much more support for house music, which surprises me, because these cities are smaller than Houston.
Nathan: Underground house is getting big with the midtown crowd, and they're the ones who drop all the cash at the bars, but dirty south hip hop is way big here. Rap artists like Lil Flip and DJ screw – all that lean and baller shit. I can't stand it personally.
I think it's only a matter of time before the whole scene starts to get big again though. Call me an optimist, but I don't think you can keep it down.
» So club music is less popular now than at some other recent time?
Nathan: Yeah, it shrank after 2000 when there was this huge party called Transit. Local news snuck in and filmed kids all fucked up and it all hit the fan from there. I'm not sure if it made national TV but it was all over Channel 2 here. It was the biggest party this city ever saw – out of this world fun.
Mario: I've heard it did become smaller after the rave boom. When I moved here I met all kinds of people that said they were involved in the dance music scene in the late 90s to early 2000. They claimed to have liked house and techno, but when I would press them further on what artists or DJs they liked, I found they were clueless. Most of those people were probably just following a trend and got bored with it after awhile.
» Had there been much hysteria prior to the Transit incident?
Nathan: I think it all kinda built up to it.
Mario: I'm sure of it. New Orleans is only six hours away but it is a sister city to Houston in ways. I think their clubs, parties, promoters and shenanigans had a lot to do with the demise of Houston's dance music scene.
» New Orleans was the first city in which the Illicit Drugs Anti-Proliferation Act (formerly the RAVE Act) was enforced. Do you know of any cases in Houston?
Mario: The Act is a load of bullshit! I've never heard of anything like that here in Houston in recent years, and nothing like that existed in the late 80s. You basically had some upset mothers that found out that their kid tried ecstasy.
It was specifically invented nationwide to kill rave (including outdoor parties) in hot spots like New Orleans, Orlando, New York and LA – and it did. Now that there is no more rave I don't hear about this Act at all, which is a good thing.
But there is still just as much ecstasy and other drugs here in Houston as before. Surprisingly, ecstasy is doing the rounds in the black-orientated hip hop clubs now. But as long as white suburban kids aren't doing it, the government doesn't care.
Nathan: So far I haven't witnessed that or heard of any instances happening in town. Sometimes the cops will break up a warehouse party cos of underage drinkers (damn them). But nothing really like Miami Vice.
» Is there an outdoor party tradition?
Nathan: Well, Houston is flat. There's no scenery really. And some of the parties just haven't turned out as good as I think the promoters wanted them to. They got a lot of flak from the local cops and such, and heavy rains made it real muddy.
Mario: There could be outdoor parties because we have lots of parks, but it's way too humid most of the time and the hurricane season lasts about six months so it's kinda hard to plan those events. The last one I was supposed to attend got rained out.
» What have you got in the way of venues?
Nathan: There's a little bit of everything here. Really it's a matter of where the party is at.
Mario: I think out of all the cities I've been to, Houston has some of the most interesting variety of clubs and bars, save for New York of course. We've got tons of art gallery type spaces, open-air rooftops, old mansions, Russian-themed bars, huge multi-roomed clubs, intimate digs, and other extremely unique spaces here.
There's lots of real estate, lots of potential. Clubs open and close on a monthly basis in Houston. If you take a look at the club listing section of our alternative weekly, you will see that it goes on for about five or six pages.
There are two clubs that are still going from the late 80s. Numbers is a seminal industrial club that is still an industrial club, and Rehab (which used to be called Power Tools) was very influential back in the day.
804 Fannin, where Nathan played, was a nice spot – perfect for underground house because it literally was underground! Tha House, where the last Houseyobody party was held, is actually a house with some sort of business license. Very cool.
There are also various upscale (yuppie) bars and nightclubs in the Downtown and Midtown scenes of Houston. But these clubs are more focused on the atmosphere, rather than the music being promoted as an event. Sure, you've got the DJs right there in front and there is some dancing, but the patrons seem clueless as to who the DJ is and what tracks they are playing. They are just there to drink and hook up, and the fact that house music is being played is just an afterthought.
Then there are clubs that may have a lounge where there might be some swanky Naked-type house CD compilations being played, but the main dance floor will be playing the same songs the radio stations are playing that month.
But we don't have many after hours clubs compared to the amount of regular clubs going on here, and no after hours clubs I know of play house, although some of them play progressive.
» How long is a typical DJ set?
Nathan: Usually sets in town run about an hour to an hour and a half. Headliners will get two hours. If you are lucky enough you get the job where you DJ all night (four hours). Those are the sets I really enjoy playing. One hour is barely enough time to get it going; four hours and you get to weave a spell all night. On those nights I'll try and keep a logical flow going, depending on how much I have had to drink really.
Mario: Clubs stop selling alcohol at 2am, but they can stay open by law until 3. You'll be lucky to get to hear a big name for two hours while the club is full. However the upscale bars seem to only have one DJ, the resident, and don't usually play hosts to guest DJs. Unfortunately these are the clubs that draw the biggest crowds.
» What clubs and parties are rocking right now?
Nathan: At Red Door the DJ for the evening is Ethan Klein – one of the best in town in my opinion. And at Zimms the DJ is LBO – this kid definitely knows how to bring the funk proper.
At Clarks, the party Rotate is on Fridays – rotating DJs include John Osorio, Patrick de la Garza, and Ian Alliste, who are all top notch. And Turn it Up is on the Thursday. I do a monthly there alongside my boy Hippo. It's proper D&B from him and I come with the upfront, savvy house.
Also, Champa Moore does Saturdays at Rich's. The party is called Password – if you know the password you get in for free. It's a word of mouth thing, fun times always. And once a month they throw this huge party called Rent at Union. That show gets ridiculous.
Mario: Rent parties at private venues are probably Houston's biggest draw. Then there's the Houseyobody Crew who are starting to get things moving along. They recently brought down Jam Master Jay, from Chicago, who plays a more mature sound of house and classics.
The party had a very diverse crowd – Hispanics, whites, blacks, gays, and straights of various ages. I spoke with the promoter and I think his events will now be monthly events. The event was loosely associated with deephousepage.com in the same fashion that the party The House That Texas Built was associated with undergroundhouse.net.
» Who are some of the key producers to have come out of the city?
Nathan: Tim Xavier (techno), Chris Anderson (tech house), Arqer & Realtime (jungle), Jake Childs (house) and Henry Chow (techno).
» Are there any Houston-based house labels?
Nathan: Yeah, there are a few. Orsonic started out as an online shop but is now promoting the whole digital media thing and this year they're going to start releasing their most popular downloads on vinyl. It's run by John Osorio and features music by him, Josiah Burke and Josh Du Pont.
Heights Music is run by Paul Dyne and in spring they're going to release a track of mine, plus another track by Josh Du Pont and Mike C, with a remix by Paul Dyne. Uniform Recordings is headed up by Jake Childs and features artists from all over.
And there's Housetown Records. Head honcho of that bad boy is Chello. He's released a track by Jake Childs with a Fiasco and Chris Lum remix, and the next one is gonna be Third Coast (Vic Vegas, Mr. Bristle, and Ethan Klein) with a remix by Rick Preston. All those labels are putting out real fresh house music.
» Things like travel and technology have made the East Coast/West Coast sound distinction pretty redundant by now but where would you say Houston house fits in?
Nathan: It's pretty hands up here. I tend to like the deeper funkier west coast style, though there have been some ridiculously hot jams coming off the east.
Mario: I don't know what other house heads in Houston like. Dallas and Austin are hotbeds for house music right now and some DJs/producers there are west coast transplants, so I guess more west coast – maybe a cross between tech and deep. I love all kinds though.
» Nathan, at 24, you're already quite involved in the scene. How did you get started?
I guess I first heard electronic music in high school. I had some friends floating around copies of Chemical brothers, Daft Punk, Crystal Method etc and I got my hands on some of them and was basically intrigued as to how those sounds were being made.
I rocked out music of that sort for a spell and then ended up going out to a party in Austin (this was late-97) where the headlining DJs were Felix da Housecat and Stacy Pullen. After that show I was pretty much hooked. Stuff kept preventing me from buying decks then thankfully my dad saw I was pretty into it and hooked me up with my first set (Numarks). So I bedroomed it for a while and saved some bread and finally got some Technics.
At that time, I was living in Killeen – a few hours NW of Houston – and I came to the conclusion that if I was gonna go anywhere with it then I'd have to get out of there. So I moved to Houston and started playing out. I hooked up with these guys doing open decks on a Tuesday at this joint called The Oven and from there it all just kinda fell into place.
» Weren't you underage at that time?
Yeah. And one of the first times that I played out in front of people I was a bit nervous so I bummed a beer off my friend, who was 21, and had just started playing when out of nowhere some people from the Texas Alcohol Bureau show up and raid the place. The party got shut down and I ended up getting a ticket for Minor in Possession.
» What was your next step?
Nathan: Me and my boys Ben Clark and Mike W had a weekly going called Dedicated. We did that for about two years and it was definitely the hottest house night in town. We brought down Chris Lum, Olivier Desmet, Eddie Spettro, Thomas Sahs, and some more guys. All of them came correct. We'd throw a major party about once a month and then fill the rest of the month with locals.
» Were the parties financially successful?
Nathan: I think the general feeling in Houston is that if you are gonna throw a party, you expect to lose money. As long as people are having a blast at the party, it's a success.
Mario: I think it was a major blow to Houston's underground house music scene when the Dedicated guys lost their venue. Every so often I hear of a fairly well known house DJ coming to Houston, (Metro Area, Mark Farina) but the events receive little or no publicity.
Although I only made it out to Dedicated four times, I give them major props for bringing in talent, and contributing to the cause. I heard Mike and Ben one time each, but I heard two full sets by Nathan and he sounded pretty good. He's got the ear for it.
» What are your hopes for the future?
Nathan: I'd definitely like to be putting out records more than anything but I think DJing and production go hand in hand. If you are making great records then people are gonna expect you to come out and kill it at the party – if you can't mix that leaves you with a problem.
Mario: Personally, I would love to start playing my saxophone again and get some sort of live act going with like-minded people from all over. And I would love to see house music blow up again on a national level, but somehow keep its credibility this time.
Right now it doesn't seem possible. I think house music is seriously in a state of "too many DJs, not enough dancers". There is a ton of music but a lot of it is not getting heard by anyone but other DJs and producers. It's a shame. I'm just glad there are those out there just doing it for the love.
But the future does look good. We now have two satellite radio distributors here in the US: XM and Sirius. Each of those companies distributes a package of about 140 channels of commercial-free music, and each has two stations dedicated solely to dance music.
I have an XM satellite in my car and I listen to The Move on XM, which plays mostly good house 24 hours a day. Very soon everyone will have these radios and no one will be forced to listen to the same Top 40 garbage over and over. I seriously predict a resurgence of house music on a national level in about five years or less due to exposure alone.