*Well serves me right for being pessimistic: I must update this post because City have just won the league!!! Brilliant.
**Now they are utterly dominating I'm embarrassed to say I adopted them!
So it's pretty much inevitable that United will secure their millionth Premier League title and City fans will be morbidly depressed about it. But at least City is now threatening for the title instead of languishing in the third tier of English football, as they were in 1998/1999 when I had the privilege of watching them at Maine Rd. The football was terrible but the atmosphere was awesome. Attendance was high, the singing was loud and the beer was cheap. Sometimes, like when Millwall came to town, it was like being in a '70s time machine. The puerile taunts were genuinely scary and security fought to keep fans from spilling down the aisles to get closer to their enemy.
I adopted City because I love football and didn't have a family connection to any team, unless you count a cousin who supports Watford and his brother who supports Chelsea. Given that the family is divided, I didn't see why I should opt for either club. Meanwhile, I love Manchester music and its contribution to pop culture, and  also love the historic roots of the city: the fact it was a key player in the industrial revolution, and all the misery and excitement that entailed. I also prefer blue to red. And, rather cynically, I calculated that if I watched City while they were in Division Two, I'd be able to claim the right to support them when they were back on top. At the time I was accused of only supporting them because of the Gallagher brothers. I think that's preferable, though, to supporting a club because their foreign owner has bought their way to success.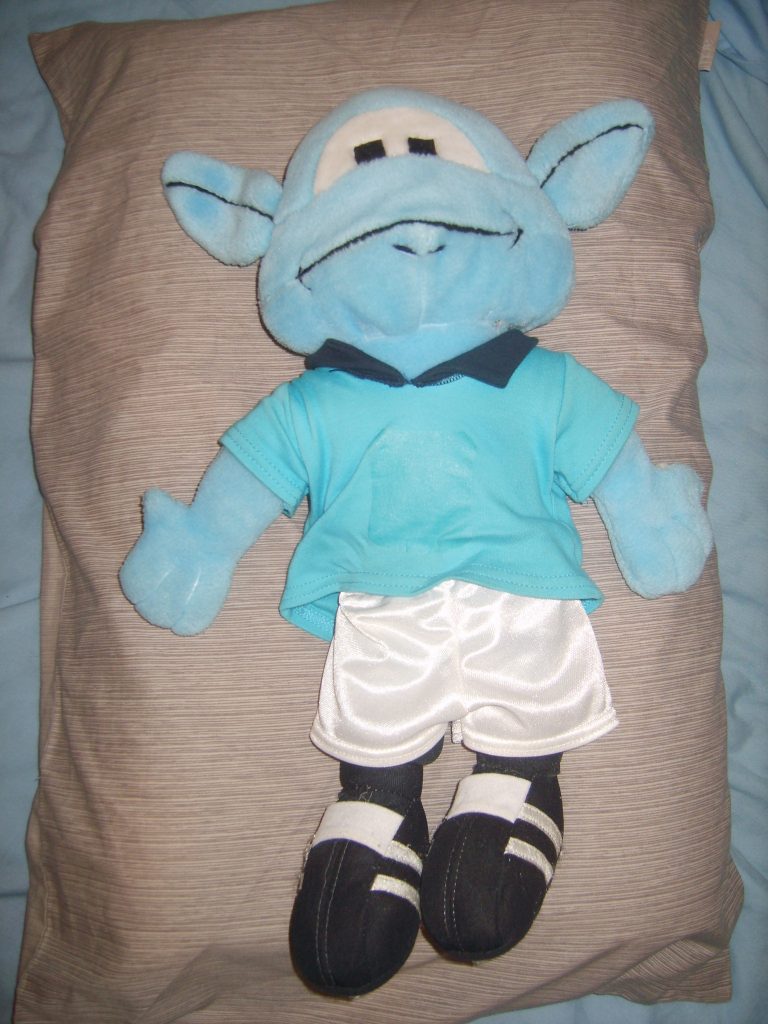 Moonchester is part of the collection of merchandise I bought when I was living in Manchester and he's since lived with me in Japan and several houses in Auckland.
The home games I watched were:
2-1 Stoke City.
This was a pivotal game in which City finally got on course to get out of the second division; previously it was looking like they might stay there. Attendance 30,478. I had just moved to Manchester and my dad was with me. The entire stadium stood and sang Blue Moon in the cold winter night.
3-0 Fulham.
3-0 Millwall.
2-0 Macclesfield Town.
0-0 Northhampton Town.
1-2 Oldham Athletic. (A dark day)
2-1 Notts County.
1-0 Wigan Athletic.
4-0 Lincoln City.
2-0 Luton Town.
1-2 Wycombe Wanderers.
4-0 York City
City missed out on the two automatic promotion spots and had to play off in the semi-finals against Wigan. It was 1-1 away. Then I went to the return leg.
1-0 Wigan Athletic.
This qualified City for the play-off final at Wembley, which I didn't go to. We drew 2-2 with Gillingham. Then we won 4-2 on penalties and got up to Division One.
…Never mind the title, just gotta hope City beat United at home.