This was originally published on worlddj.com when I lived in Japan and reviewed events for free entry. The Tokyo club scene is super professional and sometimes there were no cameras allowed but they would give me ones from their pros, like the ones below: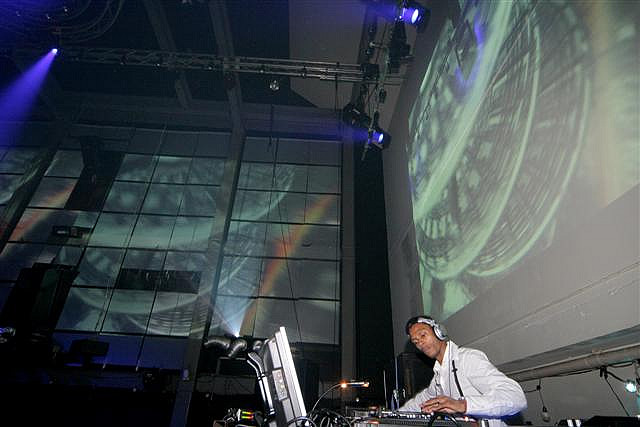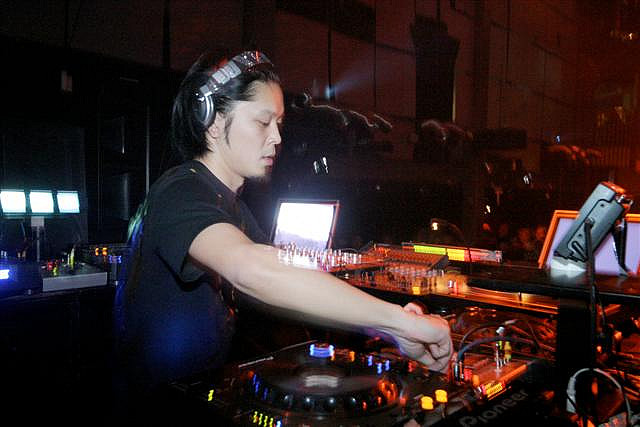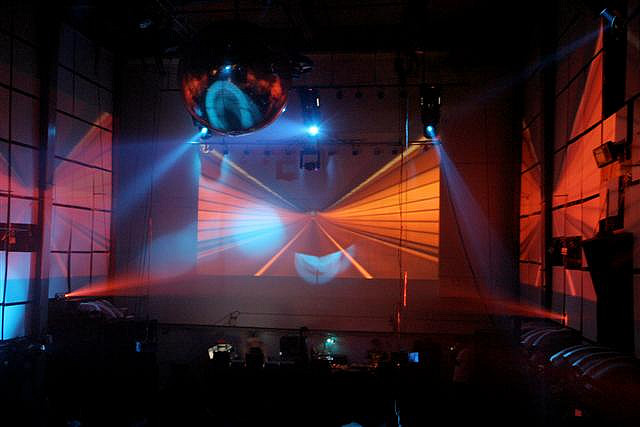 Jeff Mills has a highly conceptualized approach to electronic music events and this is the second year that he has commandeered four consecutive Friday nights at Womb under the Time Sensitive banner. It's a heavenly match for anyone that believes dance parties should be about more than a DJ playing a few tunes in a smokey strobe-lit room.
In addition to DJ sets by himself, Mills' Week 1 Opening Party featured a live performance by Francois K; Week 2 was entitled "Detroit Techno Revenge" and showcased the Detroit collective Random Noise Generation / Octave One with Ann Saunderson singing live; and Week 3 was a tribute night to James Brown entitled "Turn it Up, Turn it Loose" at which Mills delivered an exclusive set of Brown's music with support from DJ Muro and some live musicians as well as a live performance from Rock Steady Tokyo. The Week 4 Closing Party "Experience", which I attended, was intended to be a full exploration of the equal potential of sight and sound in the electronic music experience, featuring Mills and Ken Ishii on DJing duty and VJ Numan aka Glamoove.
Glamoove was the VJ for each of the events but his skills were really put to the test on the final night because Womb modified the sidewalls of the mainroom, which has a roof three floors high, tripling the space upon which the artists' work could be displayed. Visuals are ordinarily projected onto the front wall above the raised stage on which the DJs and VJs are located and the sidewalls are plain while the upper two floors of the back wall are made of glass, allowing visibility into and out of the respective lounges. But on this occasion they entirely covered the upper two floors of the sidewalls with a multitude of adjacent small screens that together formed a single canvas. This meant the club featured high-resolution surround sight in addition to the high-fidelity surround sound produced by the Phazon system.
Notices posted around the club informed us Mills would play from 11-1, Ishii from 1-3, then Mills again from 3-5 and they did stick fairly closely to this schedule.
Mills' first set varied a lot in style – undulating up and down with some quiet ambient moments – whereas his second set was pretty much a straight up presentation of floor thumping, technological trickery. There was scarcely a vocal to be heard but even a relative novice such as myself could appreciate how much he was working the EQs, cutting the bass out and frying our brains with sizzling highs then kicking it all back in together, the packed crowd voicing their approval of his every move.
Throughout both Mills' sets the visuals were exclusively about space: stars, planets, rockets, meteorite showers and a lot of blackness. They were very beautiful but there's no denying the fact that the sheer size of them considerably added to the impact. The words "Time Sensitive" would periodically appear on the front screen while numerous stars rushed upwards on the sides, reinforcing the singular identity of his vision. Another striking image was of a single planet appearing first on the front wall then slowly rising until it also appeared on the sidewalls and eventually filled all three before disappearing into the void.
Ken Ishii is one of Japan's most recognized and respected DJ/producers and it's appropriate that Mills gave him the final guest spot of his residency because he's Japanese but also because he's exceptionally talented and charismatic.
In contrast to Mills' rather earnest appearance, Ishii looked like a rock star with a sparkly set of headphones and a t-shirt with shiny gold chains printed on it. He began his set on a downtempo tip then quickly built up to some captivating, hard but soulful, 100% techno. A few classics featured in the mix and there were often echoes of the 80s but it all felt very now: eclectic and fun. I chanced to meet him later in the night and he said, "It is always very special working with Jeff Mills because he has a very different way of thinking. This style of party was very new for everyone and so I even practiced my set to make sure it would work with the visuals."
In complete contrast to the journey through outerspace that we were taken on while Mills' played, the visuals during Ishii's set were uber urban: aerial shots of carparks and factories, people standing by airplanes and trucks, apartment blocks and skyscrapers, and a fast-paced car ride through downtown Tokyo.
At the end of a sequence the production credits would appear on the front screen, clearly indicating the level of professionalism among practitioners of this nascent art form. And there were in fact two of the brand new Pioneer DVJs set up like arcade video games in the 3rd floor lounge (on the second level of the mainroom). They had Mills' Exhibitionist DVD installed in them and a nice pair of headphones just sitting there for anyone to play around with: I suspect if anywhere is going to fully utilize this new technology, it's Japan. Meanwhile in the 4th floor lounge, Yama played a quality set of house, the Tech Riders laid down an eclectic mix of breaks and other electronica then DJ Keita played a sublime set of drum n bass.
In his closing speech Mills claimed that, aside from his native Detroit, Japan is his favorite place to perform and it's easy to understand why: Japanese nightclubs tend to have premium quality sound systems and DJ/VJ equipment, and the crowds tend to be very knowledgeable and appreciative of the music whether it be cutting-edge or classic. He humbly thanked everyone for allowing him to fully explore his ideas and said he would use what he had learnt over the course of the month throughout the following year. He then thanked various crewmembers including the Japanese MC, Numan and Ishii. I only understood a little of the MC's translation but he definitely said "kono party wa ichiban seguoi", which basically means "this party was the dopest!" The crowd then insisted Mills play another track and, to everyone's obvious pleasure, it was Rolando's Jaguar.