This was originally published on worlddj.com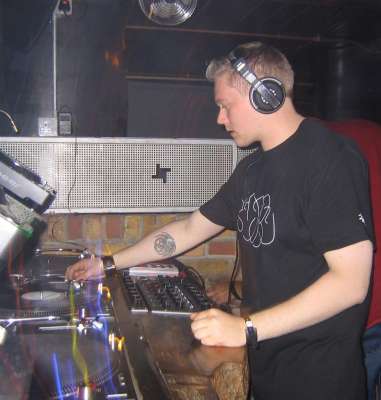 Jay Tripwire's first tracks were allied with the so-called West Coast sound but they soon started invading other zones of the house umbrella. Tripwire then invented an acidic alterego, Mr Barcode, to express another side of himself altogether. Although there's an evil vibe on some of his production, the future looks good for this charismatic Canadian.
» How did you spend your formative years?
Formative, huh. Is this where I talk about when I was a teen – how I was in and out of psychiatric facilities, sometimes forgetting to take my meds and hearing once again the dark lord summoning me to the dark world of underground house parties.
Sometimes at night I would try to sleep and I could hear the dark lord scratching at the walls – I could feel him under my skin. The doctors thought I was crazy… they told me there is no dark lord!!! They told me there was no underground house. One cold dark night I gave in to his temptations: it was all downhill from there.
» So when and where did you start DJing?
My first gigs were in my hometown of Vancouver at underground illegal rave parties. I used to throw my own illicit parties also. Oh the good old days… That was before trance Top 100 DJ polls and messageboards – when there was no EQ per channel on the DJ mixers.
» Your first tracks were released in 2000. What inspired you to start producing?
At that time there weren't enough records to go between a lot of the musical stuff, so my original tracks were really meant to be a good groove to segue musical records and keep the energy up. And they seemed to catch on with other DJs.
» How has your sound changed since then?
Very drastically. I've switched full circle and am making a lot more musical records. But these days I'm doing stuff where no two records are really alike – trying to be as diverse as I possibly can and not sticking to what people have come to expect from me.
» Why did you create your Mr Barcode alias?
Mr Barcode came about in a huge bout of studio-driven, caffeine-fueled sleep deprivation. I was tired of what I was doing studio-wise and I was playing completely different music from what I was producing.
Labels weren't interested in the weird bleepy shit I was pushing as a DJ so I developed a schizophrenic other personality from all the stress. He takes over me from time to time and unleashes his hatred for all things organic via his robot-infused madness.
» How does Jay Tripwire differ from Mr Barcode?
Mr Barcode is a villain. He hates all things organic – flutes, sax, guitar, oranges, spinach, kittens etc – so his music has a very robotic clangy feel to it.
Jay Tripwire, on the other hand, is somewhat less deranged. His sound is more based around what records he is currently playing and things he is inspired by, like long walks on the beach or the color magenta. There's a much wider range to Jay than his evil counterpart.
» Is your own music an accurate reflection of what you DJ?
Yeah, my own music is now a very accurate reflection of what I play. As a DJ I encompass all things house that I enjoy, and what I play depends on what I see moves the crowd. I'm into these journey-style sets instead of just playing one sound all night, and that is also why I love doing really long sets.
» What ratio of vinyl to CD-R do you typically play?
20% CD-R, 80% wax. The CD-Rs are only unreleased stuff from artists and labels that send me the music, and it has to be really awesome for me to burn it and play it. Most people don't even have the CD stuff mastered so often I have to do a rough mastering job on it before I can play it out.
I don't buy music to play on CD and I don't shop online – I like to go to the record store. Vinyl just sounds warmer and it's partly a social thing too.
» Where do you regularly DJ and what are your favorite destinations?
My schedule varies from month to month but I do make routine stops in my favorite spots: Denver, Fabric in London, Vancouver, Seattle, Chicago, Mexico, and San Francisco.
But I don't get to Tokyo as much as I'd like (if I had my way I'd go every two months). I really can't wait till Virgin Galactic starts 'cause I wanna play a few clubs in space.
» You've recently formed "The Clones" with Chicago's Mazi. What have the two of you got in common?
Well Mazi and I are very compatible DJs. We do a two record back-to-back thing and since we both play many styles, we really take people on a long journey.
We bring out a mean streak in each other where we like to destroy the dancefloor with heavy hitter after heavy hitter till they look tired, then we take things hypnotic, deep, and trippy. These days my highlight gigs are definitely our Clones gigs.
» What are your plans together?
We've begun to work in the studio together and come up with some great stuff, and we plan on touring a lot together. But we're not into holding hands or sharing milkshakes.
» Finally, what are your personal goals for the future?
I hope that my unreasonable fear of spoons doesn't overpower my life – that with the right medication I might one day be able to eat cereal with a spoon.
I also plan to keep practicing the art of foilismo, which is what I call the practice of wrapping tinfoil around one's head. It is a commonly used practice for those with acute schizophrenia, to keep the satellites from reading our thoughts.