Recently I read Patti Smith's memoir M Train and it became clear she loves a good cafe as much as I do. In the book Smith spends a lot of time in her local Greenwich Village cafe, where she eats brown toast with olive oil, drinks black coffee, and writes. If her favourite table is taken she sits in the loo with the door ajar until it is vacated. One time she has a minor altercation with a lady who doesn't realise its her table and then Smith narrates her internal dialogue as she talks herself down from vengeful thoughts. She even lists her favourite cafes, in cities ranging from Naples to Berlin to Sydney.
I've moved a lot and one of the first things I'll do in a new neighbourhood is suss the cafe situation, frequenting a few and favouring one or two. At high school, I loved Brazil on Auckland's K Rd and then Zippy's on Hardy Street in Nelson – alternative places with dark walls, next to no lighting and music louder than conversation. People smoked a lot. Like Patti Smith, people often sat alone and read or doodled, rather than sitting in large groups to gossip or look at their respective phones.
Cheap Thrills
Annoying as it may be for their profit margins, you've never needed much money to enjoy a good cafe. The price of a coffee can buy you an hour of comfort, or escape. In Manchester I couldn't afford to go clubbing or gigging or shopping often but I could still soak up the late '90s culture by sitting in a cafe on Oxford Street that was part of an arthouse cinema complex called Cornerhouse. It was above the street with large windows and you could sit among people coming and going, feeling a part of the culture being described in the magazines I would be reading.
These days I favour the Scandinavian sort of places with art on white walls, plants, naked lightbulbs, blonde wood furniture and floors that are usually reclaimed wooden planks, or polished concrete. The menu will be interesting and cognisant of health fads.
When I lived in Newton/K' Rd, there was Benediction, 23, Scullery and now Bestie in St Kevin's Arcade sounds promising. My CBD fav is Heaven Scent. On Ponsonby Road, you can go for the unbaked, extremely on-trend end of the market by visiting Little Bird and the Raw Kitchen.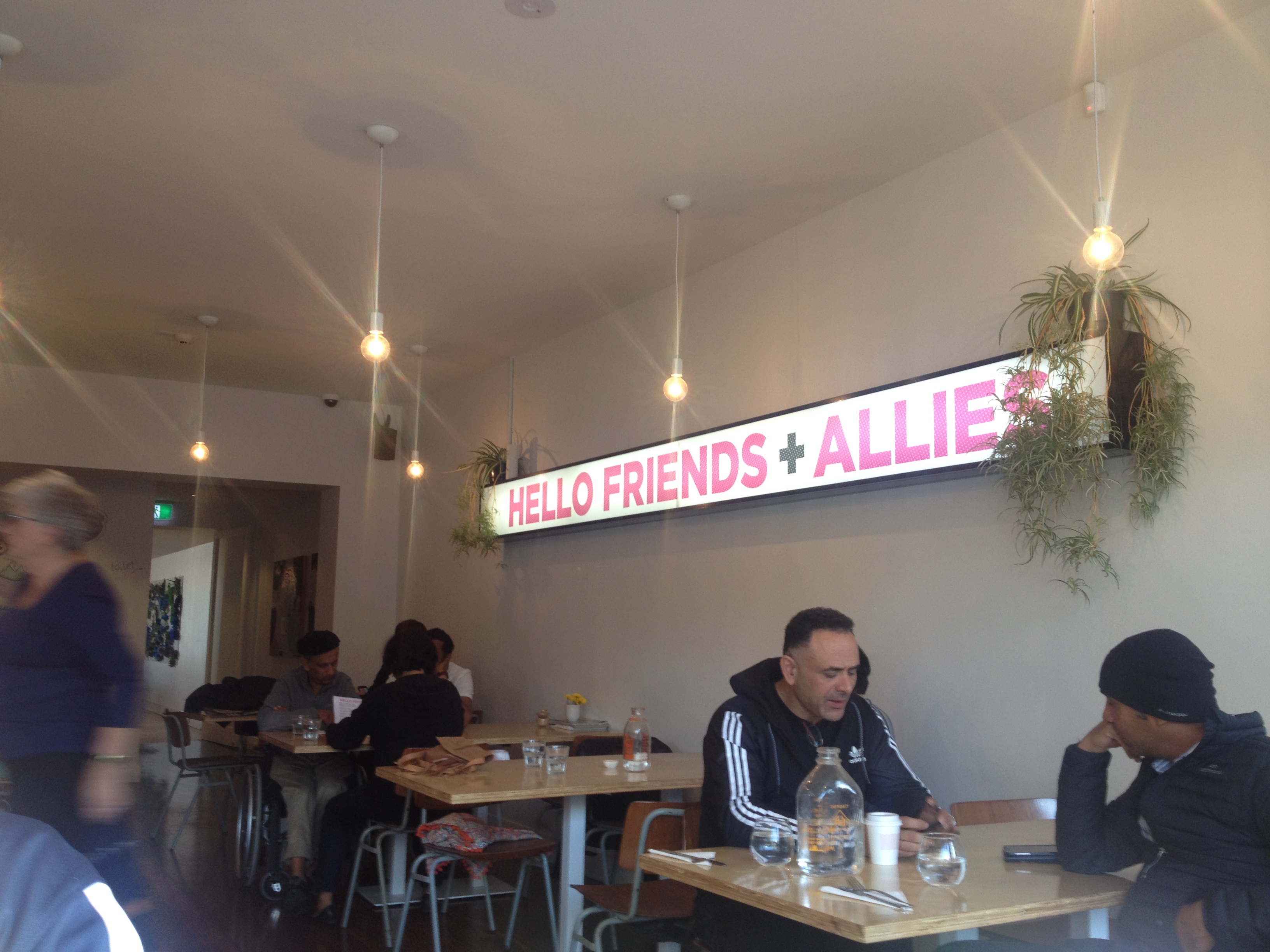 A Clan of Cool Spots
And in Epsom, near the corner of Gt South Road and Market Roads, you have Hello Friends and Allies. The cafe comes to us courtesy of Aaron Carson and Fran Mazza, the cool couple who also founded cafes Salvation and Little Sister [and since this post: Forever Winona in Parnell, and a bunch more coming!].
The only thing that will stop me going to Friends and Allies every day is the fact I live an hour away. The counter heaves with treats and snacks.The menu features all three of the best alternatives to bread: gourmet porridge, bircher muesli and sticky rice. But if I'm going for bread, I always scout for sour dough and it appeared here in a dish called Valhalla. Salmon was the feature, with creme fraiche, beads of balsamic vinegar, micro greens, tangy onion and slices of pickle. The rest of the menu looked ideal. The Supreme coffee was exactly that.
I could imagine myself as Patti Smith, a professional writer/toiler, living a hop skip away and lurking bitterly as someone else enjoyed my favourite table. But then there are so many good tables I could probably just find another one.