This was originally published on worlddj.com when I lived in Japan and reviewed events for free entry. Yellow was an incredible club that has since been shut down. I took the booth pics and they supplied the others.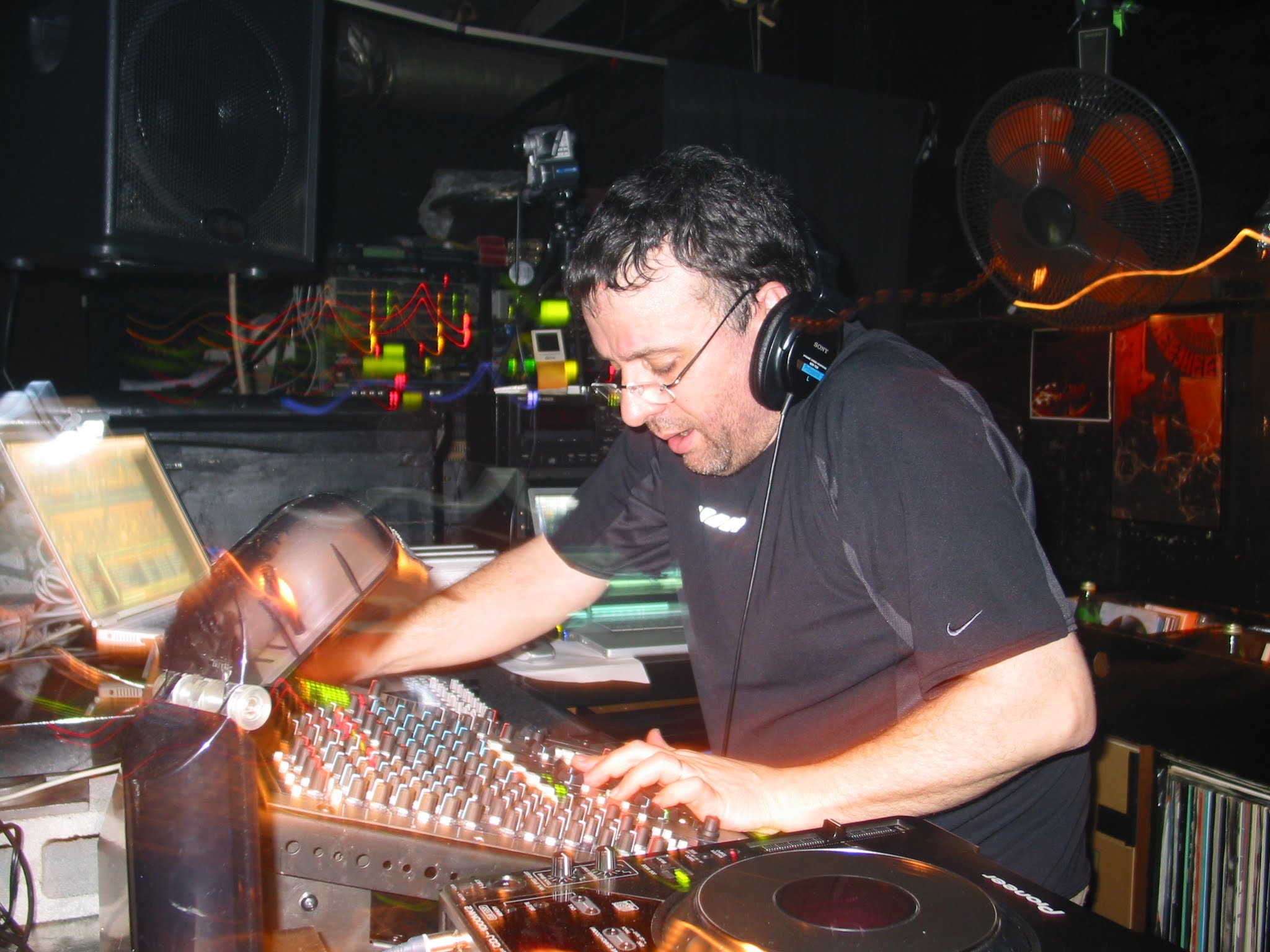 As one of the founding fathers of NYC club culture, Francois Kervorkian has rightfully earned himself a place in the history books as well as in the hearts of people lucky enough to have heard him perform. Fortunately for Tokyoites, Space Lab Yellow has got to be one of the best venues in the world for hearing such masters. The club allowed their guest to play for 12 hours and the party, which was part of his Deep Space Tour, was a resounding success.
Yellow opened early but rather than having an opening DJ, they elected to play some dub and jazz CDs on low volume until Francois started. Two hours later there were pockets of people sitting in all the lounge areas and around the perimeter of the darkened dancefloor, and many leapt to their feet and cheered when the soundsystem suddenly grew louder and the bass rumbled into full effect.
Although the night was listed as a Dub event, Francois only played one or two tracks of that ilk before slipping into some lush drum n bass and – of all things – Snoop Dogg. But the eclectic intro proved to be a fitting indication of what was to be a smooth yet thrilling rollercoaster ride through the annals of quality music. Not a genre was left out as Francois selected choice cuts from every era of electronic music and peppered it with rock by bands such as The Beatles, Rolling Stones, Jimi Hendrix, Black Sabbath and Captain Beefhart.
He wasn't, however, delivering his music via the traditional means of either a live rock band or a standard DJ set-up; instead he used Traktor on two Powerbooks. His explanation: "Traktor only has two decks… I need more, so two computers make four!! Also, one of the computers is running the newer version of Traktor, which is allowing me to play 24-bit/96kHz encoded audio files, resulting in a much cleaner and pleasing sound than the regular CD-quality crap."
He then seriously tweaked the tracks using an Allen and Heath mixer, a Dope Real isolater, and a Yamaha SPX 990 effects unit, as well as having the option of using a pair of Pioneer CDJ-1000s. Of course the trouble with some of these newfangled Laptop DJs is that it's not terribly exciting for the crowd to see someone calmly standing there pressing buttons and scrolling through their harddrive. But Francois worked his gear as hard as any scratch DJ and looked genuinely engrossed in what he was doing.
The only break in his mammoth set was when the Beat Pharmacy performed live for around an hour. Brendon Moeller provided the guts of the music via his laptop and Shigeru Tanabu funked it up on his guitar – previewing some of the material from their forthcoming album on Deep Space Media, "Earthly Delights". The crowd was right into it but some people were slow to realize that the action had switched to the opposite end of the room and so remained facing the DJ booth, resulting in some pleasant confusion on the crammed dancefloor.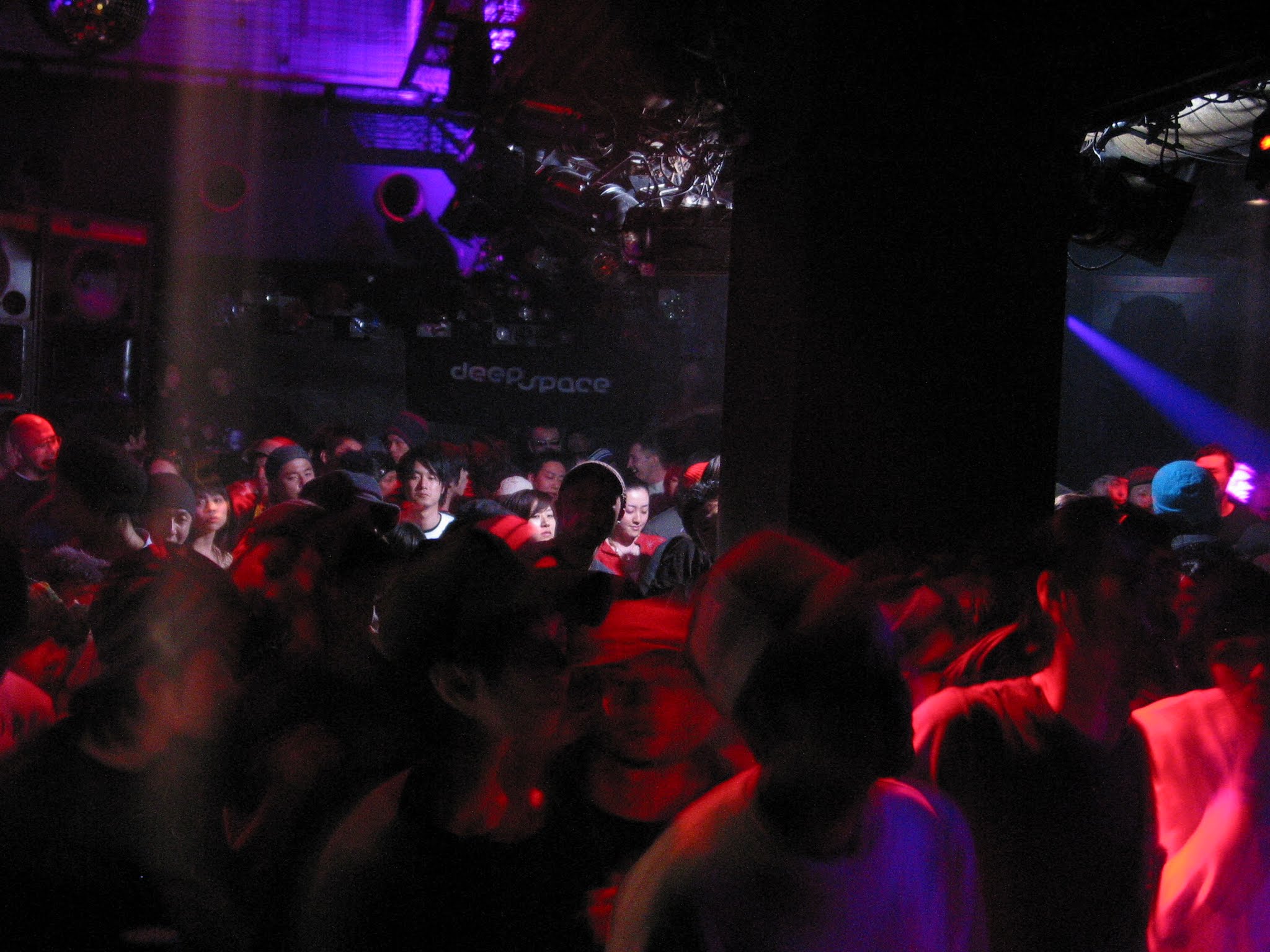 Before long, Francois was back on. The crowd responded enthusiastically throughout his set but the vibe was particularly great after the club considerably emptied out later on, giving serious fans plenty of space to bounce around and let loose. He was easily cajoled into playing for a while longer the first time he brought the music to a close, then his grand finale half an hour later was absolutely masterful with surges of deep, loud noise eventually coming to a climactic halt.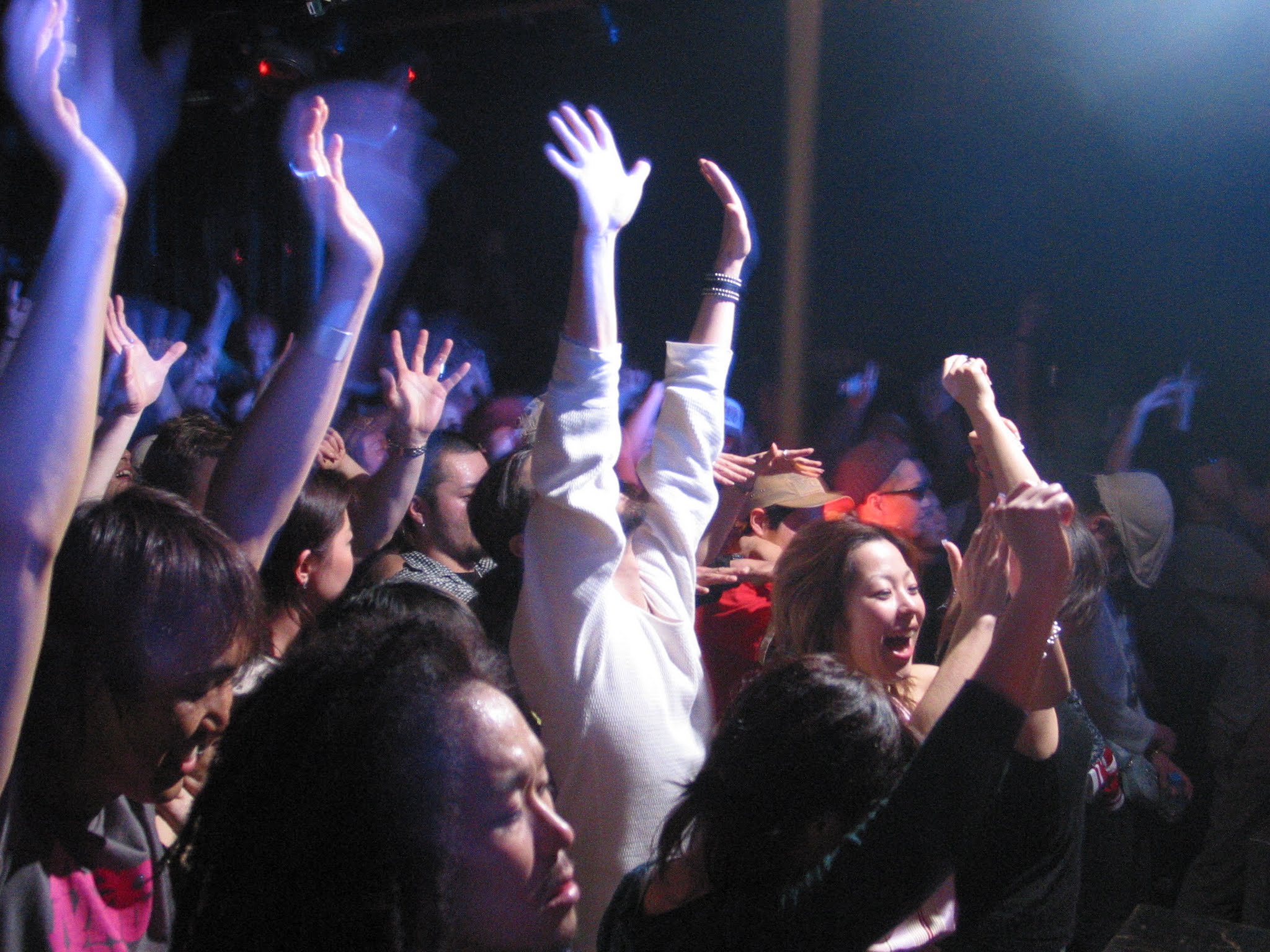 The audience held a rapt silence for a few moments then Francois looked up and everybody burst into applause. 'Twas a magical moment indeed.
Here's some tracks my friend recognized:
Snoop Dog / drop like this
Joris Voorn / lost arrivals pt.2 ( piano break down techno)
Hall and Oats / i can't go for that
Sueno Latino / sueno latino, derrick may`s mix
Bob Marley / Buffalo soldier, dub version
Lenny Kravitz / are you gonna go my way
Jerome and Ferrer / sandcastle, FK edit
Moloko / forever more
Mission Control / outta limit
Pete Heller / time warp
James Brown / funky drummer
CRM / happy endings
Matrix / tightrope (DnB)
Instant House / awade, joe's jungle sound dub
Depeche Mode / personal jesus
Francois K / edge of time
Basic Channel / phlyps track 2
And Francois' own highlights from his website:
"Marionette" Matthew Jonson
"Disco-Fied" Rhythm Heritage (ABC)
"Rootsman Dub" Deep Space Rhtyhm Section (Deep Space Media)
"Cosmic Sandwich" Steve Barnes (Traum)
"Live In Cologne" Bugge Wesseltoft (Jazzland)
"Mafungo" Joe Claussell (Sacred Rhythm)
"First Reaction (V2)" Laurent Garnier (Mute)
"Here To Go" Beat Pharmacy (Deep Space Media)
"Halleluwah" -edit- Can (Celluloid)
"Prelude" (excerpt, from 'Agartha' live) Miles Davis (Columbia)
"Power Of Brain" Franck Biyong (El Casa)
"See Mi Yah" Rhythm & Sound (Rhythm & Sound)
"Somewhere Over The Rainbow" Jimi Hendrix (Reprise)
"Rock Vibe" Kenny Dope (Dope Wax)
"Neurotic Behavior" Psyche/BFC (Planet E)
"Eastman Sound" Augustus Pablo (Rockers)