This was originally published on worlddj.com. The pic is from their myspace page.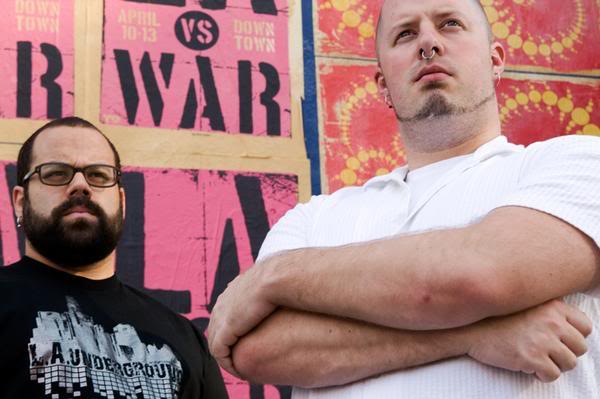 Now that we're safely ensconced in the mid-naughties, it seems like the superclub heyday is over and the underground is making a comeback. The time is right, then, for the Bodyrock DJs to show the world how it should be done. I quizzed Benjamin about their past, present, and future.
» When did the three of you meet?
Well Marcus and I met when Marcus unintentionally threw a glowstick at my head while he was doing his raver dancing back in the mid-90s up in Seattle, which is where the two of us originally hail from. From that point we would meet up every now and then around town and eventually we became roommates at the "Cool House" – you know one of those rented houses with all yer college buddies and party people, and that sort of thing.
And then, for too long after that, Marcus and I were roommates in Seattle and also once we moved down here to sunny southern California. That was the heyday of funky House and when breakbeats weren't shunned; there'd be two rooms at the parties and love for all the electronic music, and just overall love for the culture.
Marcus and I met Chris because of a mutual friend who insisted we meet and connect. We attended a party Chris was playing and, at 4am when Marcus and I were ready to go, Chris gets on and flips the party onto its head. We got together soon afterward and started doing our underground parties whenever we could.
» When did you each start DJing?
Well Chris (DJ Soul as he is known in the SoCal underground, also as Chris GoodVibe) has been DJing for a decade plus a few years. Marcus and I started DJing basically near the same time when I hijacked his new turntables when we were living together.
But it's a neverending start for me. I absolutely know I have never been close to stating that I've learned to mix. In fact it's an in joke between the three of us – jabbing each other constantly by hollering "Learn to mix!" whenever one goes badly.
» Do you always DJ together nowadays? How do your joint sets work?
Well we have a fair amount of variety available with our sets. Marcus adds a crucial element to our sound: his loops and breaks are an additive to the records Chris and I are mixing. Sometimes it's just Chris and Marcus, or it's all three of us, and back in the day it was just Marcus and myself.
Most of our notoriety came from our improvised 3×4 sets, which is four turntables and the three of us. Chris and I play on four turntables and Marcus rotates in with his original laptop ten-key-beat-machine thingy. Sometimes there's a microphone involved: typically the crowd loves that. But it's sorta cheating because it's easy to solicit a whoop when you're talking live to the audience.
And we love to play independently. We take those gigs anytime we can. I see more of that coming in the future for us and that's a good thing because, although we all like each others styles, we still want to keep our individuality.
» What genres do you primarily play? Are there any you particularly dislike?
As far as we're concerned, the umbrella of House is pretty damn large. It encompasses: acid, breaks, techno, deep, vocal, glitch, etc. We try and stick to all of those. Simply, we play what we love.
The environment of the party makes a difference as to what style we might play on a given night. But our main through line would have to be funk – west coast funk to be exact. It's what we were brought up on. And we are also privy to solid low end as well. I guess most DJs would tell you it's all about the bassline and that'd be hard to argue against.
As far as a dislike goes, I'd say the three of us would agree anything extremely crude or degrading would be it. Or shit that is ego driven or involves attitude. I'll let people decide what that might mean.
» When and why did you start producing tracks? Who does what?
Truthfully, out of necessity. Any younger DJ knows that production is the key to getting around these days. But we are so infantile when it comes to producing. Marcus is the main producer and he gets it; he has a grasp of the equipment that Chris and I don't.
But we still bring our ideas to the table and usually Marcus will sort them out. We realize that getting in the studio is the first step to getting that global recognition and are always looking for good studio jockeys to work with so we can learn and create on another level.
We all, in one sense or another, lay our voices down for use in tracks. I know I'm a little too nasal sometimes to sound the way I want to sound. But I guess the object then is to use that to our advantage.
» Your lyrics are very political, speaking out against your government and war in no uncertain terms. Have you always been politically active?
Politically conscious became politically active because Bush changed everything. 9/11 changed everything. We have all grown up here on the west coast where it tends to be slightly more liberal than the middle of our country.
The House music movement is based on acceptance and tolerance of others. I will say that absolutely. To think otherwise is not to believe in the spirit of House music. To give up your shiny clubs and super marketing and enter the underground scene is where the journey of acceptance begins for some. Others walk right into it.
Now don't get me wrong. We love a shiny club every now and then, but a warehouse with a rainbow of people and myriad of ages and individuals doing their thing is where is at.
And you can't accept the policies of the Bush regime and truly believe in the spirit of House music. Their stance on everything – from religion, to sexual preference, environment, warfare, and even taxes – is anti-House. There is no love, except for power, greed and money, from this administration.
» Where is underground House best represented in LA?
Everywhere. LA is so spread out it makes it difficult to just walk to your favorite spot from your apartment, although Hollywood has changed that somewhat. There is a hub of activity on Hollywood Blvd these days. But all across LA and Orange County the do-it-yourselfers are starting up their own nights and one-offs.
» Who are the key movers and shakers?
The folks that spread the word to everyone they know – the ones that entice their co-workers and school mates to give House Music a try. Sometimes that's the promoters and most times it's the party people themselves.
There are definitely some heavyweights and some middleweights that keep the scene alive. Trying to list them would only cause drama. And also the amount of crews that I don't know that are holding it down shouldn't be left off the list. But if they're down, than they don't really care anyway and will do their thing without too much influence or politics.